Last Updated on November 3, 2022 by Admin
Best Dialogue and Quotes of Adipurush Movie. India's most popular actor Prabhash dialogue in hindi of his upcoming movie Adipurush.
Dosto Adipurush movie ke teaser launch hone se lekar ab tak ye movie kafi surkhiyan bator raha hai. Ye movie Hindu mythology Ramayan pe based hai. Jisme South Indian actor Prabhash lord Ram ka roleplay kar rahe hain to wahi ravan ka kirdaar Bollywood actor Saif Ali Khan ko mila hai.
Adipurush movie ka teaser YouTube pe launch hote hi movie controversy ka shikar ho gayi. Yaha tak ki is movie ko bykaat karne ke liye social media pe jam trolling bhi ki ja rahi hai. Jiska koi thos karan nahi hai par logo ka kahna hai ki jis tarah ye movie makers Ramayan ke charectors ko dikha rahe hai wo sahi nhi hai. Jaise Hanuman ka Muslims look me dikhna, Ravan ka hairstyle aur uska chamgadar (Bats) pe udna, Ram ki lambi muchhe, Sita ka roleplay aisi aur na jane kitni bate log social media pe kar rahe hain. Khair in sab vivad ke bawajud ye movie kafi epic aur romanchak hai, jise dekhna to banta hai.
Adipurush Movie Dialogue and Quotes in Hindi with Images.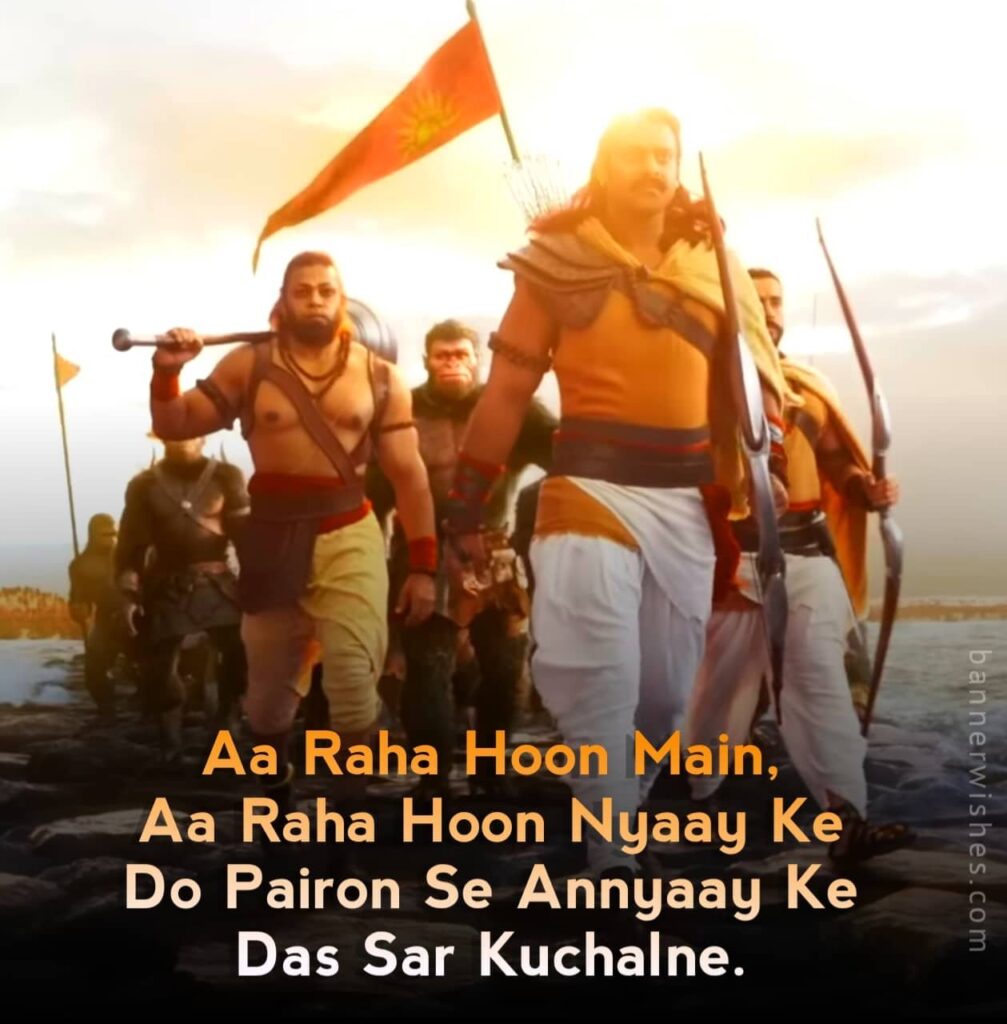 Aa rha hu main, Aa rha hu Nyay ke do pair se… Anyay ke Das sar kuchalne… Aa rha hu adharm ka Vidhwansh karne

Prabhash
I am coming, I am coming from the two feet of justice… to crush the ten heads of injustice…

Prabhash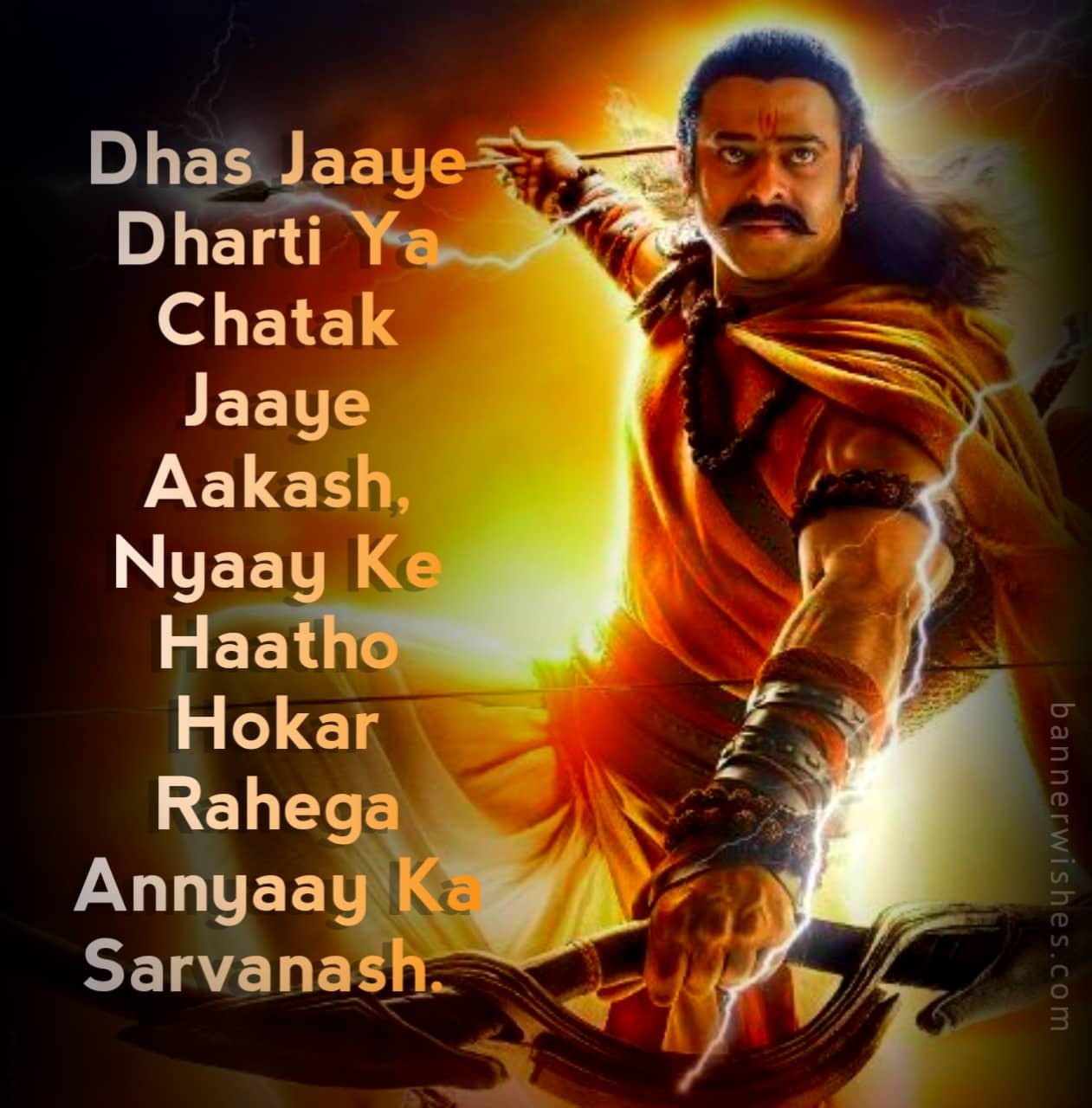 Dhas jaye ye dharti Ya chatak jaye ye akash. Nyay ke hath hokar rahega, Anyay ka Sarvnash….

Prabhash
May this earth collapse or this sky may crack. Will be in the hands of justice, the apocalypse of injustice….

Prabhash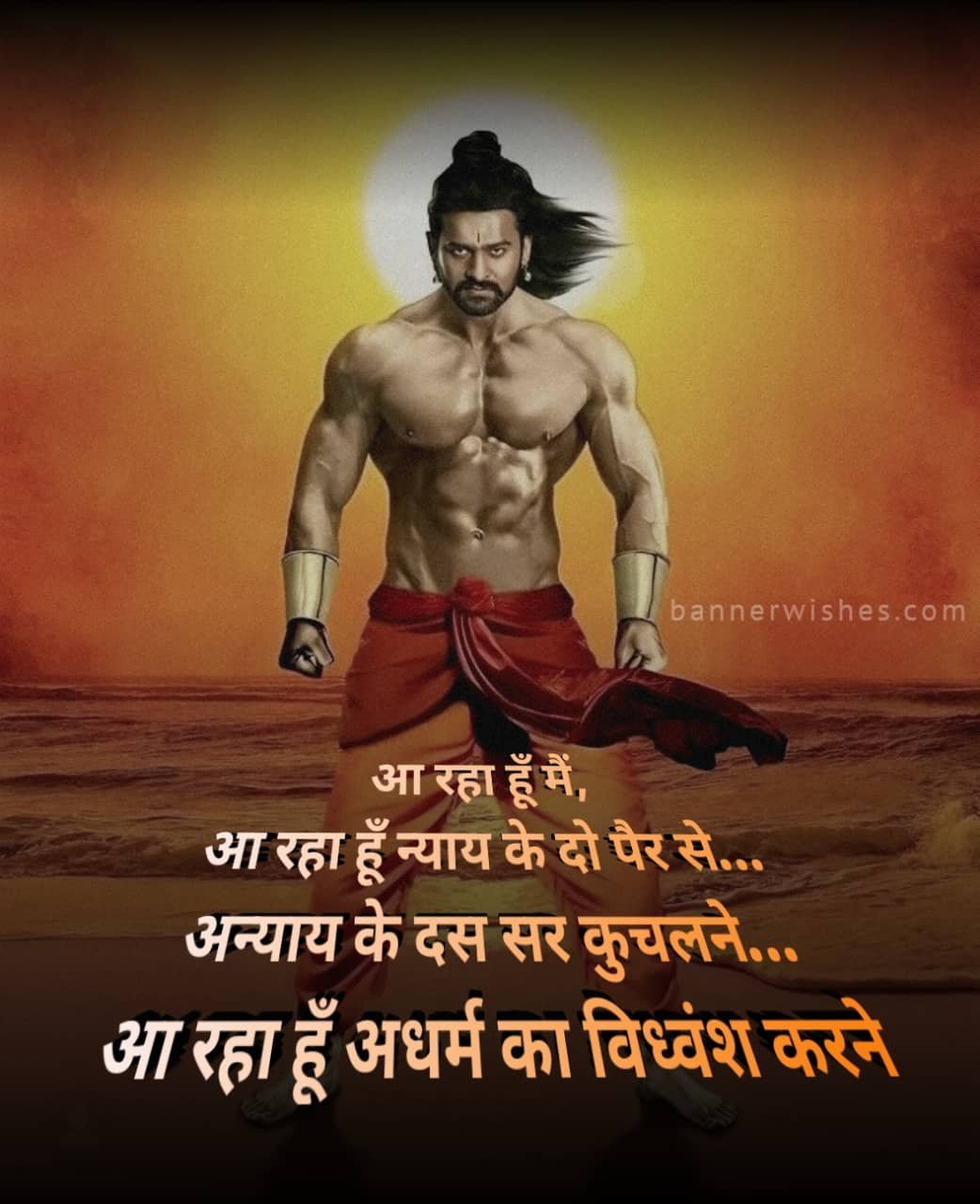 Adipurush Movie Release Date
आदिपुरुष 12 जनवरी 2023 को हिंदी और तेलुगु में तमिल, मलयालम, कन्नड़ में डब संस्करणों के साथ नाटकीय रूप से रिलीज़ होने वाली है। यह पहले 11 अगस्त 2022 को रिलीज होने वाली थी, लेकिन बाद में लाल सिंह चड्ढा की रिलीज के कारण इसे स्थगित कर दिया गया था।