Last Updated on March 13, 2023 by Admin
Best Collection of Motivational Shayari in Hindi "जिंदगी में डर की लहरों से भागकर नौका पार नही होती। अपने सपनों को पाने के लिए लड़ने वालों की कभी हार नही होती।" सफल होने के लिए, आपको हर दिन अपने उद्देश्य के थोड़ा करीब जाने के लिए खुद को आगे बढ़ाने का हर मौका लेना चाहिए। अपनी प्रेरणा और जुनून को बढ़ाने के लिए Motivational Shayari और Motivational Image का उपयोग करें।
Motivational Shayari Banner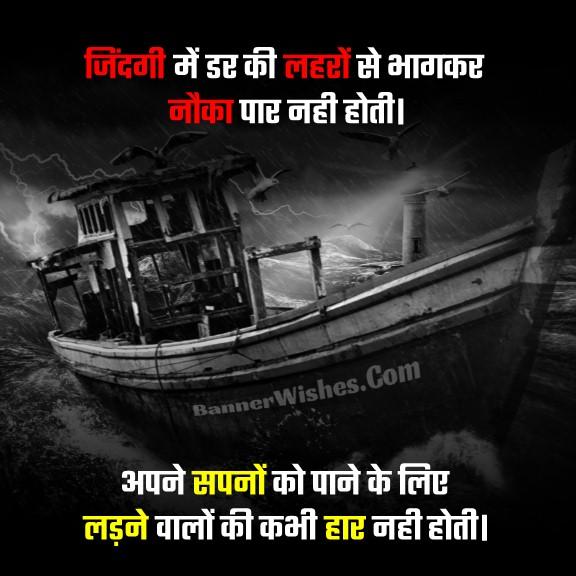 जिंदगी में डर की लहरों से भागकर नौका पार नही होती।
अपने सपनों को पाने के लिए लड़ने वालों की कभी हार नही होती।
"In life, the boat does not cross by running away from the waves of fear.
Those who fight to achieve their dreams never give up."
Best Motivational Shayari in Hindi 2023
आंखों में नींद बहुत है पर सोना नहीं है,
यही समय है कुछ करने का इसे खोना नहीं है।
aankhon mein neend bahut hai par sona nahin hai,
yahee samay hai kuchh karane ka ise khona nahin hai.
एक सूरज था कि तारों के घराने से उठा,
आँख हैरान है क्या शख़्स ज़माने से उठा।
ek sooraj tha ki taaron ke gharaane se utha,
aankh hairaan hai kya shakhs zamaane se utha.
दीया बुझाने की फितरत बदल भी सकती है,
कोई चिराग हवा पे दवाब तो डाले।
deeya bujhaane kee phitarat badal bhee sakatee hai,
koee chiraag hava pe davaab to daale.
उदासियों की वजहें तो बहुत हैं ज़िंदगी में,
बेवजह खुश रहने का मजा ही कुछ और है।
udaasiyon kee vajahen to bahut hai jindagee mein,
bevajah khush rahane ka maja hee kuchh aur hai.